4.14.2002
Both Pocket Bishoujo and Pocket Bishonen are back online. Submission is closed on both sites.

12:49 PM

4.7.2002
Oh no!!


Pocket Bishoujo is gone!


Her webhost says there's no index.html file.


7:49 PM

4.5.2002
New developments! I joined the Pocket Bishoujo webring. Wheee!


And I won an award! YAY! Look how pretty it is...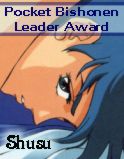 No new boy or girl catches, but I found this! Pocket Seibutsu! Now you can catch lots of animal and creatures! I'll probably make my own badge for the gym. In the meantime:

I'm going to try to catch the YST tigers... and I'm wishing for a Shere Khan from Disney's Jungle Book. (A Robin Hood fox, Bernard and Bianca, and of course, Bugs Bunny would be nice too.)
11:29 PM
4.2.2002
The Giant Master List
197 Total Catches. 84 dashing Bishonen. 114 lovely Bishoujo.
Recent catches: 14 are newly caught and not placed, and 3 are newly caught, placed, but not uploaded (JK Rowling, Emeraldas, and The Fight Card.)

Uploads, as of today:
Sapphire needs a complete upload, missing Melfina, Mai, Ayashi Mikage, Gaddes, Shinji, Shuu Rei Fuan, Sanada Ryo, Soshi, and Tooya.
Rosy needs a complete upload, missing Lum, Naru / Molly, Hello Kitty, Lala, Officer Jenny, Pebbles, Sanosuke.
Plum is missing JK Rowling, Chiana, and Aeryn Sun.

Fix-ups:
Need to get all the gyms CSS worthy
Ivory Gym is not ranked
Fix links to RfP

Next trainers' meeting:
Hotaru and the need for Indigo Gym
Banner buttons for the site?
Other adoptables: chibis, misc. shrines, the rest of SP

---
R.Dorothy Wainwright - The Big O :: ?
Chocolate Misu - Bakuretsu Hunters :: ?
Princess Millerna - Vision of Escaflowne :: ?
Edea - Final Fantasy 8 :: ?
Rosemon - Digimon: Digital Monsters :: ?
Mistress 9 - Bishoujo Senshi Sailor Moon :: ?
Chiana - Farscape :: ?
Chris Marly - Gundam Wing :: ?
Juri Katou (Jeri) - Digimon: Tamers :: ?
Queen Serenity - Bishoujo Senshi Sailor Moon :: ?
Lady Pharangese - Heroic Legends of Arislan :: ?
Rika Sasaki - Card Captor Sakura :: ?
Ruby Moon - Card Captor Sakura :: ?
Botanica - Transformers: Beast Machines :: ?

---
Achika - Tenchi Muyo :: Crimson
Hexadecimal - Reboot ::
Kayura - Yoroiden Samurai Troopers ::
Sakura Kinomoto /Avalon - Card Captor Sakura ::
Sailor Uranus - Bishoujo Senshi Sailor Moon ::
Sailor Saturn - Bishoujo Senshi Sailor Moon ::
Sailor Neptune - Bishoujo Senshi Sailor Moon ::
Lucrezia Noin - Gundam Wing ::
Sakuya - Tenchi Muyo ::
Gillian Anderson - actress ::
Iria - Iria: Zeiram the Animation ::
Ken Ichijouji - Digimon: Digital Monsters ::
Takeru - Digimon: Digital Monsters ::
Touma Hashiba - Yoroiden Samurai Troopers ::
Trunks - Dragonball Z ::
Gren - Iria: Zeiram the Animation ::
Shutendouji - Yoroiden Samurai Troopers ::
Piccolo - Dragonball Z ::
Cale / Anubisu - Yoroiden Samurai Troopers ::
Omi - Weiß Kreuz ::
Duo Maxwell - Gundam Wing ::
Spike Spiegel - Cowboy Bebop ::
Jyou Kido - Digimon: Digital Monsters ::
Date Seiji - Yoroiden Samurai Troopers ::

---
Mariemeia Khushrenada - Gundam Wing: Endless Waltz :: Gold
Suzuka - Outlaw Star ::
Juuhachigou (18) - Dragonball Z ::
Kiyone - Tenchi Muyo ::
Natsuko - Digimon: Digital Monsters ::
Julia - Cowboy Bebop ::
Sailor Mercury - Bishoujo Senshi Sailor Moon ::
Ryoko - Tenchi Muyo ::
Yukito - Card Captor Sakura ::
Hotsuma - Tenchi Muyo ::
Zechs - Gundam Wing ::
Juunanagou (19) - Dragonball Z ::
Krillin - Dragonball Z ::
Yohji - Weiß Kreuz ::
Yue - Card Captor Sakura ::
Gohan - Dragonball Z ::
Helios - Bishoujo Senshi Sailor Moon ::
Touya - Card Captor Sakura ::
Irvine Kinneas - Final Fantasy 8 ::

---
Elisa - Gargoyles :: Forest
Sally Po - Gundam Wing ::
B-Ko - Project A-Ko ::
Mimi - Digimon: Digital Monsters ::
Washu - Tenchi Muyo ::
A-Ko - Project A-Ko ::
Meiran - Gundam Wing ::
Hilde - Gundam Wing ::
Aya-chan - Weiß Kreuz ::
Catherine Bloom - Gundam Wing ::
Angewomon - Digimon: Digital Monsters ::
Ken Hidaka - Weiß Kreuz ::
Angemon - Digimon: Digital Monsters ::
Hayami - Blue Submarine No. 6 ::
Ashitaka - Princess Mononoke ::
Yamato - Digimon: Digital Monsters ::
Chang Wufei - Gundam Wing ::
Trowa - Gundam Wing ::
Mouri Shin - Yoroiden Samurai Troopers ::
Aya - Weiß Kreuz ::
Taichi - Digimon: Digital Monsters ::

---
The Fight Card - Card Captor Sakura :: Glacier
The Void Card - Card Captor Sakura ::
Lady Devimon - Digimon: Digital Monsters ::
The Silent Card - Card Captor Sakura ::
Bubbles - Powerpuff Girls ::
The Light and Dark Cards - Card Captor Sakura ::
Para-Para - Bishoujo Senshi Sailor Moon ::
Hitomi - Vision of Escaflowne ::
The Mirror Card - Card Captor Sakura ::
Arukenimon - Digimon: Digital Monsters ::
The Power Card - Card Captor Sakura ::
Buttercup - Powerpuff Girls ::
Midii Une - Gundam Wing ::
The Watery Card - Card Captor Sakura ::
Yugi - Tenchi Muyo ::
Fisheye - Bishoujo Senshi Sailor Moon ::
Zoicite - Bishoujo Senshi Sailor Moon ::
Li Syaoran - Card Captor Sakura ::
Eriol - Card Captor Sakura ::

---
Rogue - X-Men :: Jet
Faye Valentine - Cowboy Bebop ::
Emeraldas - Galaxy Express 999 ::
Satsuki - X / Tokyo Babylon ::
Naomi Armitage - Armitage III ::
Major Motoko - Ghost in the Shell ::
Eriya and Naria - Vision of Escaflowne ::
Mephisto - Demon City Shinjuku ::
Vincent - Final Fantasy 7 ::
Julian - Armitage III ::
Erik - Phantom of the Opera ::
Brad Crawford - Weiß Kreuz ::
Schuldig - Weiß Kreuz ::
Dilandau - Vision of Escaflowne ::
Vicious - Cowboy Bebop ::
Vegeta - Dragonball Z ::
Farfarello - Weiß Kreuz ::
Alucard - Castlevania: Symphony of the Night ::
Heero - Gundam Wing ::
Gambit - X-Men ::

---
Kaoru - Rurouni Kenshin :: Ivory
Lady Tokimi - Tenchi Muyo ::
Queen Tahamiine - Heroic Legends of Arislan ::
Kagero - Ninja Scroll ::
Yuzuriha - X / Tokyo Babylon ::
Kaho Mizuki - Card Captor Sakura ::
Lady Eboshi - Princess Mononoke ::
Tsunami - Tenchi Muyo ::
Matori - Tenchi Muyo ::
Priss - Bubblegum Crisis ::
Hilda - Outlaw Star ::
Yosho - Tenchi Muyo ::
Sigurd Harcourt - Xenogears ::
Kamidake - Tenchi Muyo ::
Rajura / Dais - Yoroiden Samurai Troopers ::
Nagi - Weiß Kreuz ::
Tsugaru - Tenchi Muyo ::
Van Fanel - Vision of Escaflowne ::
Nuriko - Fushigi Yuugi ::

---
Lum - Urusei Yatsura :: Rosy
Lillymon - Digimon: Digital Monsters ::
Jessica Rabbit - Who Framed Roger Rabbit? ::
Naru / Molly - Bishoujo Senshi Sailor Moon ::
Hello Kitty - Hello Kitty ::
Lina Inverse - Slayers ::
Lala - :: Little Twin Stars
Officer Jenny - Pokemon ::
Nadesiko Kinomoto - Card Captor Sakura ::
Pebbles - The Flintstones ::
Tomoyo - Card Captor Sakura ::
Ryo-ohki - Tenchi Muyo ::
Sora - Digimon: Digital Monsters ::
Brock - Pokemon ::
Zarbon - Dragonball Z ::
Jeice - Dragonball Z ::
Fujitaka - Card Captor Sakura ::
Sanosuke - Rurouni Kenshin ::

---
Melfina - Outlaw Star :: Sapphire
Mai - Fatal Fury ::
Bulma - Dragonball Z ::
Ayashi Mikage - Ayashi no Ceres ::
Funaho - Tenchi Muyo ::
Arashi - X / Tokyo Babylon ::
Mayuka - Tenchi Muyo ::
Gaddes - Vision of Escaflowne ::
Jim Hawkings - Outlaw Star ::
Professor Tomoe - Bishoujo Senshi Sailor Moon ::
Gene Starwind - Outlaw Star ::
Kagato - Tenchi Muyo ::
Clow Reed - Card Captor Sakura ::
Shinji - Evangelion ::
Shuu Rei Fuan - Yoroiden Samurai Troopers ::
Sanada Ryo - Yoroiden Samurai Troopers ::
Wallace - Digimon: Digital Monsters ::
Soshi - Thousand Arms ::
Tooya - Ayashi no Ceres ::

---



Sayaka - Battle Skippers :: Plum
Shinguuji Sakura - Sakura Taisen / Wars ::
Fuu - Magic Knights Rayearth ::
Queen Amidala - Star Wars ::
Cherry - Saber Marionettes ::
Shayla Shayla - El Hazard ::
Buffy - Buffy the Vampire Slayer ::
Tira Misu - Bakuretsu Hunters ::
Flia Ul Copt - Slayers ::
Demona - Gargoyles ::
J.K. Rowling - author ::
Guinan - Star Trek: the Next Generation ::
Aeryn Sun - Farscape ::
Mayumi - Blue Submarine No. 6 ::
Jen - Crouching Tiger, Hidden Dragon ::
Freddie Mercury - singer ::
Adrian Paul - actor ::
Michael Reisz - voice actor ::
James Marsters? - actor ::
Lister - Red Dwarf ::
Josh Kirby - voice actor ::
Seth Green - actor ::
Joel - Mystery Science Theater 3000 ::
John Crichton - Farscape ::


5:51 PM

4.1.2002
Whew! I finally got this blog up and running! Only took me all day... coming in the next few days is the complete list of catches, uploaded or not, and publishing a mirror of the Committee's meeting minutes over the past year.


All the gyms are up! Sapphire and Rosy are not yet completed, but everyone else is up and going, wooohoo! I also need to update the official count graphics. Also went on a massive girl catching spree, will have more on that later too.


Happy news! Pocket Bishonen is back up! Don't go flooding Tokio with work now, she's been gone a while.


Want: Better picture of Mia. Better pic of Sekhmet. And Tseng!


11:26 PM